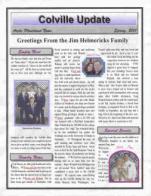 This page of the family website will be used to post copies of Teena's family newsletters so everyone who visits our website may access this added family news. Entitled Colville Update, these newsletters have been mailed out to family and friends every spring over recent years. The thumbnail to the right is just a sample of the first page of the 2001 newsletter.
All the newsletters are in PDF format so you will need the Adobe Acrobat Reader installed on your computer to be able to open and see each individual newsletter. Most people have this program already, but if you don't, it can be downloaded free from the Adobe website. Click on their address below to go to the download site and then return to this page to click on various newsletter links to view one.
http://www.adobe.com/products/acrobat/readermain.html
Colville Update 2012
***NEW***
Colville Update 2011
Colville Update 2010
Colville Update 2009
Colville Update 2007
Colville Update 2006
Colville Update 2005
Bonus Information from Colville Village:
Colville Village Sun Chart
Latitude: 70E 25', Longitude: 150E 24'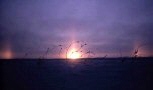 Sun First up

Sun up for
12 hours

Sun up for
24 hours

Sun first sets

Sun down 12 hours

Sun down
24 hours

Jan.
Jan. 18th
Feb.
Mar.
Mar 20th
Apr.
May
May 15th
June
July
July 29th
Aug.
Sept.
Sept. 23rd
Oct.
Nov.
Nov. 24th
Dec.
(dates vary several days depending year)
Total number of days sun never sets = 75
Total number of days sun never rises = 56
The sun rises for the first time each year about January 18th. At first it only tops the horizon in the southern sky and sets again shortly. Each day it stays up longer and climbs a little higher in the sky. The distance between where it rises and sets along the horizon expands each day; its point of rising moves toward the east and it sets more toward the west. By March 20th the sun is above the horizon for 12 hours a day, and it spans half the distance around the horizon. It makes a low arc in the sky from sunrise to sunset, with the pinnacle of the arc directly south and only about halfway up in the sky. In the Arctic the sun never reaches directly overhead. By May 15th the sun no longer sets. It merely circles around the horizon, reaching its highest point directly south and its lowest point directly north. Picture a tilted circle compared to the flat circle of the horizon. On July 29th the sun first begins to set again. It now reverses the order it started in January, and slowly decreases the time it remains above the horizon and its movements around the horizon. By September 23rd its time above and below the horizon is equal - 12 hours. The sun sets its final time for the year on November 24th. The sun is not seen again until January 18th of the next year.
ABH